Hi – It's me, the guy who does the clean-up around here after the Kitchplosions.
The resident chef is away this week working on her MFA in creative nonfiction (and trying to fit in some hooping when there's a moment between lectures, workshops, readings, etc). I've taken it upon myself to write this week's blog entry (while the cat's away…)
The inspiration for this recipe came to me this morning as I was contemplating what I might have for lunch. Aside from some left over Chinese food, there's not a lot in fridge that I can salvage from our last pre-visitor grocery shopping spree. I consider it my job to eat up any leftovers that have not turned blue, prior to food shopping once again. For instance, yesterday I made a huge frittata out of week-old eggs, slightly slimy portabellas, somewhat-soft red onions, and a lovely fresh clove of garlic. I should have taken a photo of that… (I feel fine).
Today's recipe is a classic. This is pretty much like the grilled cheese (GC) we all loved as kids – created from Wonder® bread (did you know it's made from whipped batter – not dough?)  and Kraft™ Singles American Pasteurized Cheese Product. But my version is better and yummier. It features organic 100% whole wheat bread, organic butter, and smoked gruyère from Oscar's Adirondack Smoke House.
Grilled Cheese

2 slices organic 100% whole wheat bread
1 or 2 pats of organic butter
several slices of smoked gruyère

Arrange the bread slices on a flat surface. Place several slices of smoked gruyère on one of the slices of bread (call this one the "bottom slice"). The cheese should cover the bottom slice from crust to crust, no big gaps between the cheese slices. Don't cut the cheese (ha! – had to type that) too thickly, it should be about 1/8 inch thick. Next take the other slice of bread (let's call this the "top slice") and place it on top of the cheese covered bottom slice – Note: be sure that the bread slices are aligned properly, as you would find them in the loaf, so that both the round tops are facing away from you on the flat surface.

This would be a great time to start heating up your frying pan or grill surface. Medium heat is best.

Now, the butter. Take half of the butter and dab several dots of it on the top surface of the top slice. When your grilling surface is heated up, place the stacked bread and cheese and on the heated surface with the top slice facing down. It is at this point you then dab the bottom slice (which is now facing up – but is still the bottom slice) with the remaining butter. Grill like this for about a minute, then flip it over. Grill for another minute. That should do it. It's a good idea to check the progress of the grilling to be sure you don't burn your GC. There's nothing worse than burnt GC. If you find that the cheese is not melting as much as you would like, cover the sandwich it with a pot lid, reduce the heat, and give it a bit more time.
Voilà!
Oh… that reminds me of a funny story.
One time when enjoying a lovely cross country ski vacation in Val David with our best friends, we were having lunch and wondered what the French speaking Canadians called grilled cheese. I think we all sort of expected something along the lines of "pain grillé avec du fromage". When we asked our waitperson if he could let us know, he made a funny face and said – with a very put-on French accent:
"Grilled Cheeeeeese!"
🙂
…and that inspired this t-shirt which I designed: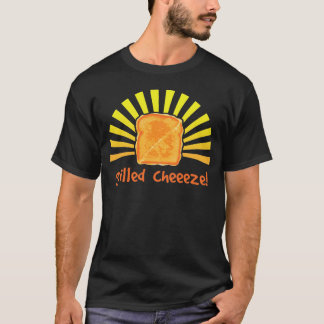 Click the image above to order one of these amaaaaazing t-shirts!